So, my sister comes home with this game and I'm super psyched to play as Danny (because I kind of love him) My older sis always used to play as Timmy, and my younger sis always played as Spongebob. So, I'm reading the box, and first of all, TIMMY WAS CUT FROM THE GAME! :O And replaced with Tac and the Power of Juju. I'm pretty sure NOBODY even watched that show.
But then I noticed you have the option to play as the villains, which I was REALLY excited for, because Danny Phantom has some AWESOME villain characters
But out of ALL the COUNTLESS villains Danny fights in the series, do you know which one they pick?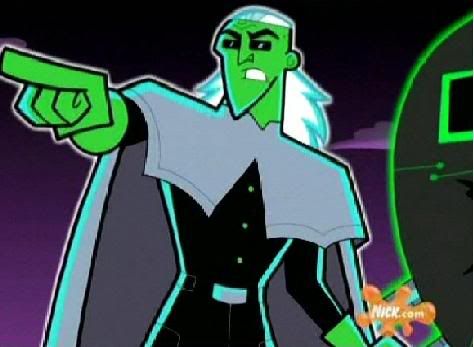 They picked this guy.
Now if they picked Plasmius, I would've played as him SOOO MUCH!! :D I LOVE Vlad  <3 I mean they SHOULD have anyway, considering he was the DP villain of the original Nicktoons! Unite.
Quality evil, right there.
And it's not like Danny and Vlad never teamed up before. I doubt TECHNUS of all Villains would be the one to lend a hand to save Amity Park. Vlad would probably find some reason to save the town for his own personal benefit.
And even if it's just another of Danny' s random ghost enemies, there's still plenty of better ones I would rather play as. Like Skulker, or Ember, or even the freaking Box Ghost is better than Technus.
Valerie would've made a great playable villain. But no. Nickelodeon picked Technus, TECHNUS as the DP playable villain. -_- Who made THAT decision?